Serena's phone sex blog - Be My Baby .... Barry! - 2017-02-12 16:01:57
More blog entries
|
Speak to Serena
This 'blog' is dedicated to Barry and begins 2017 with gusto! He took me up on my 'site' offer - that of writing a dedicated blog upon receipt of a fair 'tip' - and I hope you enjoy it Barry!
Afternoon Delight
We left early so as to reach the hotel early. We wanted to make the most of its luxurious facilities and let's be honest it was rather more up-market than we were used to. That said, we had been together for over 10 years (yes Barry we've been chatting on the phone for over a decade) and it seemed a great way to start 2017 - a weekend away!
Anyway, the radio was great company on the drive and I sang along merrily with the Ronettes as we neared our destination.
'So won't you, please
(Be my, be my baby) Be my little baby
(My one and only baby) Say you'll be my darlin'
(Be my, be my baby) Be my baby now
Wha-oh-oh-oh-oh'.
The hotel was set back from the main road in its own grounds (nice to come back in the warmer weather) but our minds were drawn more to indoor pursuits - if you know what I mean :).
So let's fast-forward - arriving, unpacking (including some very saucy undies) and enjoying a hot drink as we settle in. Gorgeous bed. Wonderful bathroom. Big armchairs and sofa and enormous tv and sound system. And a balcony for those warmer nights. Beautiful view.
But the best view as far as you are concerned Barry is when I bend over to sort my clothes out on the bed! I'd planned some sexy outfits to seduce you in 'grand style' but suddenly the anticipation of sex and seduction after dinner seemed just too far away. Striking while the iron's hot became the 'burning issue' and as your eyes burned into my backside I just knew, without even turning around, that perhaps 'christening' the bed just couldn't wait until later. I smiled to myself as I stayed bent over and felt your hands reaching round and grasping my waist.
A small gasp slipped from between my lips as I felt myself being pulled closer to you Barry, and within moments I was being crushed against your chest, your hands squeezing my tits through my figure hugging top and a suggestion of your cock against those trousers as our bodies began to rise to the occasion.
You turn my round to face you and our lips meet. How did that song go? 'I'll make you happy, baby, just wait and see. For every kiss you give me, I'll give you three.'
We weren't counting! The kisses, passionate and exploratory began that initial transference of bodily fluids and it felt so good. Our tongues touching and teasing, tasting and exploring. Enjoying the intimacy of the kisses and the pleasure of knowing without a doubt that it was going to lead to so much more. And ALL before dinner!
Throwing caution to the wind you throw me down upon the bed, scattering the clothes hither and thither. You tug my jeans down and throw 'em aside. I stretch my legs and run my hand over the sexy red lacy panties (perhaps I'd anticipate this after all?!) inviting you to anticipate the pleasure of slipping them down too.
You undress as I lie back against the cushions and I slip my top up over my head. Sexy red lace bra too constrasting beautifully against my pale skin.
You smiled remembering that it was the very set you'd given me for Christmas. I'd obviously been keeping them for today. Clever plan Serena, clever plan. And they were working their magic.
The bulge in your boxers was very VERY evident as you joined me on the bed and I resisted the desire to remove them immediately. You were going to pleasure me first and you didn't need asking twice. You didn't need asking once! Without even speaking you slowing slipped those panties down and buried you head between my warm thighs.
I was so wet as your tongue slipped between my ample pussy lips and my clitoris tingled with pleasure as you flicked across it with your tongue. Fingers searching too - and one, or was it more, slipping into my pussy simultaneously, exciting me, arousing me, taking me all too quickly to an exquisite and exhilarating climax! You tasted my cum with such enthusiasm and licked your lips with anticipation of more of the same.
I lie panting, hot and sticky as you slip out of your boxers. Your cock looks so big, so hard, so exciting!
You kneel close to my face and lean forward towards me, slipping your bulging bell end into my mouth. I lick the tip of your cock and then suck energetically on your shaft as you push it deeper into my mouth. The pre-cum coats my tongue and it takes some doing not to suck you off Barry. The thought of swallowing all that spunk is SO tempting but I resist. We have to fuck too. Our bodies yearn for that coupling and there's plenty of time for a long-winded blow job at a later date.
You slip slowly out from between my lips and I turn over to present my backside to you. It was my bottom that got us started in the first place all said and done, and rest my head on the comfy pillow.
My plumptious backside demands attention and before you thrust your cock deep into my sopping wet cunt you spread my cheeks, giving me a long lingering lick. I shudder with pleasure but I want more now - so much more.
'Fuck me Barry' I gasp 'I want to feel your cock filling me up right now' and you oblige. Moments later your cock thrusts with the greatest of ease into my pussy. Deep into my pussy. One thrust and you hit rock bottom. I jolt with pleasure and feel my juice and cum coating your cock, giving it a smooth surface to slide so easily in and out - in and out - in and out - in and out.
It becomes mesmerising. I feel your hands holding me, your breath rising and falling, your enthusiasm exhilarating and exciting, your need. Such a strong need. You need this Barry and I do too. I need to feel you explode deep and fast in my cunt. And we need to do it NOW!!!
The moment, the amazing moment where we cum together takes us by surprise. It catches us out with its energy and unexpectedness. It grasps us by the throat and squeezes every last breath out of us! We gasp, we moan, we sigh, we CUM!
I feel the way your balls, so full of cum, empty. Your cock - the way and means to release all that spunk - finally giving up all attempts to hang on and my cunt ready to receive all that hot sticky cum.
Our orgasms rippling through our bodies end all too soon, but it's with immense satisfaction and very big smiles that we fall back on the bed to recover!
I cheekily climb off the bed and bend over to pick up the clothing on the carpet but this time you just close your eyes. For now it's a pre-dinner nap but later? Well that's another story!
THE END (or perhaps to be continued?!)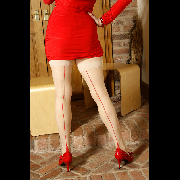 There is no recording for this blog entry