Candy Cox's phone sex blog - Sexy Summer - 2016-06-16 12:28:35
More blog entries
|
Speak to Candy Cox
It was a lovely sunny day when you came over and you found me in the garden sun bathing I sat up as you walked towards me and waved the bottle of lotion in my hand, 'Hi darling I can't reach my back, would you do it for me Please? You practically ran the rest of the way!
I lay down on my stomach, waiting for your touch .... you dropped to your knees beside me and pouring the suntan lotion into your hands, you began to apply it starting at my neck and working down my soft shoulders to my back. your hands worked the lotion into my silky skin and it became more like a massage than just a lotion application. ....'Don't stop, do my bum too and down the back of my thighs. It would be painful to get burned there.... I spread my legs apart to give you room. ...you knelt between my legs .... did the left leg then the right. kneading the muscles as you worked the lotion in. Mmmm that feels good ...your hands moved onto the cheeks of my arse. .... I spread my legs farther apart and lifted my hips your fingers slipped under the edge of my thong and rubbed the outer lips of my pussy&.Mmmm yes dont stop that feels good. You pushed the thin strip of cloth aside and slipped your fingers in fingering the length of my slit....you drew it back and down again. As your fingers collected moisture from my leaking cunt, you rubbed it up and down my pussy and around my hole&..you slipped your finger into my cunt.
Mmmmm....you pumped it in slowly and when you pulled it back out I moaned with pleasure...you pushed your fingers up to slide over my clit as it started to swell. You rubbed it and pulled it between your fingers as I began to pant and writhe against you.....you plunged three fingers into my cunt and then slid your thumb into my arsehole up to the first knuckle you moved your free hand under me and rubbed my clit, sending me into a full orgasm. You felt my cunt clamp down on your fingers as my juices flooded your hand.
Oh, God, are you going to tease me or are you going to fuck me? I want your cock in me
NOW&&PLEASSSSEEEEEE? &.
You didnt need asking twice thats for sure ...you sat back on your knees and dropped your trousers and boxers, releasing your steel hard shaft I looked back at you watching as your cock sprang back up free from its confines... you ripped off my bikini bottom and spread my legs wide you grabbed your cock and aimed it at my sweet cunt. you pushed forward and I cried out as you worked it into me..., an inch at a time until you were pumping all of it as deep as you could.......I begged you to go faster and harder. ...you were soon hammering into me and your balls were slapping against me.... I clinched my pussy and orgasmed, flooding your cock again, the cum was dripping down my pussy. ......you pulled out and flipped me back to my belly.....you lifted me and pushed your cock back into my cunt and again began pounding into me. In only a few minutes, I was once again Cumming on your cock. You shoved more and more of your cock into me until you filled me completely as I screamed out my next orgasm, .....you started pumping load after load of your hot cum into my tight wet cunt... As your cock softened, it slipped from my pussy and we lay spent on my towel. .... you cleaned your cock off on the corner of the towel, pulled your pants back up.... you stood up leaving me cum filled .... Mmmmm that was fantastic you creamed me good I giggled &well time for a nice cold well-earned drink now&.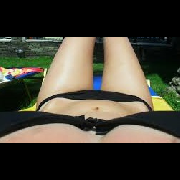 There is no recording for this blog entry