NIKITA_'s phone sex blog - Quick Hot Sexy Threesome - 2016-03-11 10:50:45
More blog entries
|
Speak to NIKITA_
Dear Diary,
I've always loved the idea of having a threesome, with a really sexy, strong, older man. The other woman would be beautiful, very feminine, soft all over, brown hair, and very sweet.
My dream finally came true!
I was hanging out at a local book store and I was in the erotic book section (as usual), and I notice this cute Brunette sort of avoiding the section. She comes over, hesitantly, and picks up a book. I look at it and say, "hey, that's an interesting one", and we start chatting.
We start talking about the genre, and how much we like it. I think some other guy close by hears us, so he comes over and gets in on the conversation. After about an hour, we're all divulging out deepest secrets and I find out the the great news about my new friends...
This sexy brown haired girl is a squirter and has an extra wet pussy! In fact, she's bisexual, and thinks I'm really sexy, and talking to me about all this has gotten her really hot.
Mr Lucky (that's what I'm going to call the guy from now on), lives close by, and wants to fuck both of us, so we all go back to his place for some privacy. He's your typical tall, dark, handsome, dumb type, but we want to use him so we let him watch.
Once we get there, me and the girl (we'll call her Brownie), are all over each other. I'm touching her beautiful soft breasts, sucking on her nipples, pulling her hair. I very badly want to touch her wet pussy, but she keeps brushing my fingers away because she doesn't want to get too hot. Her pussy hair is short and soft, and she smells like chocolate. She's truly a delicious little woman.
At this point I'm dripping wet, my pussy juice is running down the inside of my thighs. Mr. Lucky is beside himself with anticipation. He literally cannot sit in his seat anymore, he's stroking his hard cock, about to pounce on me and Brownie at any second.
By now, Brownie and I are completely naked. I'm still trying to touch her hot pussy, and she keeps pushing me away. I'm so hot that I'm moaning, begging her to just let me touch it a little. I keep biting her hard pink little nipples, and she looks like she just might go over the edge. I finally can't take it anymore, I want to touch her so badly, so I push her down, and force my finger into her pussy. OH MY GOD. It's the hottest thing I've ever felt, and my fingers slide in like they've been greased. Her clit is swollen and pink, just wanting me to stroke it with my tongue.
Brownie is happy to feel my fingers inside her, and starts moving to build more friction between us. I keep finger fucking her, moving my fingers faster in and out. I finally put my mouth on her clit, flicking my tongue up and down on her clit to keep her hot. She's almost screaming my name, and I can tell she's close.
Mr. Lucky has had it. He wants to fuck, and he wants it now. I'm bent over fingering Brownie, and my wet pussy it sitting there, waiting to be fucked by him. He comes up behind me, seeing my swollen clitoris, and plunges his huge hot cock inside of me. He catches me off guard, and I gasp because its so big and it feels so good.
Brownie realizes what happens, and I think this makes her go crazy. I'm still fingering her, when she starts moaning even louder. I find her g-spot, and stroke it while Mr. Lucky is still fucking me from behind... and wham... Brownie cums. And what a show it is. A hot stream pours out of her as she squirts everywhere... all over the walls, the floor, me. It's ridiculous, and she's screaming, and I find it incredibly sexy. She's shaking after she's cum so hard, so I turn my focus to Mr. Lucky.
I turn around to face him, and he begins to fuck me even harder. He's twisting my nipples, playing with my clit... I'm losing my mind. He dick feels so good pounding me more and more... when all of a sudden he pulls out. He starts jerking himself off with one hand, and fingering me with the other. He goes directly for my gspot, and starts to rub really hard.
All of a sudden, I feel like I completely lose control. I see stars, I feel like I'm about to black out. My body is very hot, I can't think, I can't move, all I can feel is the building pressure inside of me that needs to be released.
Mr. Lucky keeps stroking himself, faster and faster. I see his fast contort, and he starts to squirt his hot white cum all over my stomach, so hard that it even hits me on the lips. I love the taste of cum, and even though I can't, move, I can taste him on my mouth, on my tongue.
All the while, he's smart enough to keep rubbing my spot, harder and harder. I have no idea what to do at this point, I've completely lost control. I just lay there moaning, shrieking, feeling him, wanting to release what's building up inside of me. My body starts to shake. My clit is shaking, I'm sweating, I'm screaming, and feel something move through my body and flood my senses with hot feeling. It moves through me, and the suddenly, I feel the release through my clit. I squirt and squirt, it literally pours out of me. It's everywhere, and I can't stop, and I'm so hot.
After all this, we're all quite happy, and fall asleep on the floor in the giant mess we've made.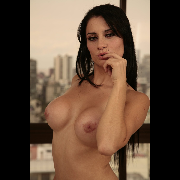 There is no recording for this blog entry