Serena's phone sex blog - A Festive Story! - 2015-12-27 16:40:49
More blog entries
|
Speak to Serena
It's mid-morning and I'm at still sixes and sevens. I'm not even dressed - wrapped up in my favourite cream wrap and nothing else - when the doorbell rings! I answer the door and there you stand, holding a rather interesting looking parcel. I apologise, the postman is always going to the wrong house (can't imagine why!). You immediately stop me verbally in my tracks explaining that you're working away for Christmas and wanted to give me a small gift as a thank you for keeping an eye on the house (next door) when away.
'Well do come in' I say - a slight twinkle in my eye - wondering what you might have bought me for the festive season. It's definitely not a bottle of whisky (I do like a glass of Talisker!) and it's certainly not a d-ld- at that size. (Politeness denies me all the letters in that word!). But isn't that what parcels are all about - surprises to delight the senses and the eyes? Little do I realise that I am delighting your senses and your eyes as I lead you towards the sofa in the sitting room, inviting you to take a seat on the comfortable cream sofa. Yes, I like cream - such a sensual sophisticated and stimulating colour. Makes one think of so many nice things, and I'm not just thinking of cream liqueur - there have to be less calorific alternatives!
Although it goes against the grain to open a present before 25th December, after a little discussion I insist that I open the parcel immediately. It's just so nice to see someone's reaction when one opens a gift and I'm sure (I say with conviction) that you've made a good choice.
I lean forward towards the brown wrapping paper and rip the paper open slowly with my neatly manicured finger nail. It opens easily and inside I find a beautiful box, covered in red ribbon, and the logo of my favourite lingerie store emblazened across the top of the box. Well, Sherlock Holmes, you've certainly noticed where some of my diverted parcels have been coming from over the year. Well done (I think) as I finally reach the lid and open it slowly and enthusiastically. This is going to be....... WOW, I stop in my tracks, picking up carefully the grey gossamer gown within. It's chiffon, see-through, sensual, sophisticated and simply - well - Serena!
My eyes say it all. 'Thank you so much' I retort, eager to show my gratitude for such a well chosen item. But a moment of doubt clouds my pleasure - what if it doesn't look as good on as it does off? A dilemma. But it's easily solved! I'll try it on now and you can give me your honest opinion. If it's not 'right' you can return it before Christmas. You say that you think it's highly unlikely that it won't suit me but happily agree to a fashion show. What gentleman wouldn't! And I slip out of the room to put it in. If I'd been a little more observant I would have already realised that the sight of my breasts less than covered in that gown as I eagerly unwrapped my gift was already causing you to respond, not unpleasantly, to my womanly charms, but no - I hadn't noticed ....... or had I? What do YOU think??!!
Before too long I peep back around the door. 'Ready'? I ask. 'I'm more than ready' you say. And in I come.
Well, my noble reader, you can fill in the next few minutes yourself ... see me as I pose and pout and present myself in the most artistic of positions. Sitting, standing, bending (oops!) and giving the gown a real run for its money. And your response that it is 'right ON the money' is music to my ears. Gift accepted. But I don't have a gift for you. The need to remedy the situation hits me head-on. What can I do! And to make things worse I feel that you may have yet another gift for me hidden away, perhaps a spontaneous and unexpected one that demands attention right now. For those of you of a less intuitive nature let me elaborate. I allude to your erection. Yes, feel it now, in your pants (or perhaps in your hand). What's to be done? What's to be done?
I know, at this point, exactly what's to be done and I come very very close to you. That grey gossamer gown leaves very little to the imagination doesn't it. Perhaps this was all part of a pre-conceived plan? You know I would want to enjoy it with you today. And now I want to enjoy you. My gift is here, right beside you, and you can open your present today too! I sit down again on the sofa and lean slowly towards you. A thank you kiss on my lips and your hands now reaching towards me, pulling me close, the softeness of the fabric against your fingers and the intensity of our desire mounting and I reach towards your pants to find present number two. Out you spring like a jack-in-a-box and I eager grasp my Christmas Candle. How bright, how strong, how light you shine. I lean down to lick the twinkle of the tip and unashamedly follow that by slipping deeper onto your seasonal shaft. How good it feels, how good it looks, how good it tastes.
Leaning forward like this causes havoc with my gown - it shifts hither and thither, and so do your hands, feeling beneath the folds of fabric to those damp warm folds of flesh. Sliding between my snowy thighs and finding a festive forest of fur and fun. You tease me, you please me, and as things get a little more frenetic you pause a moment to unfasten the ribbon holding my gown across my body. I slip it off and toss it unceremoniously towards it's box. It stays there in its safe haven and you find mine.
I like back on the sofa now as you endeavour to put your flame out. My legs spreading against the sofa's support and you find my Aladdin's Cave. My treasure awaits and your have the magic words that allow you to enter deep within. It's a glorious, exciting, invigorating and enlivening place. Your candle shines it's light and makes me bright. It drives us wild with pleasure and sensation. I feel that I have you as my Christmas captive and I take all that pleasure from you and make it my own too. We slide and glide. You feel and probe. We toboggan together, our bodies singing louder than any Christmas Choir and we cum together like the final chords of a great seasonal symphony. HALLELUJAH!!!
HAPPY CHRISTMAS and a VERY HAPPY NEW YEAR TOO.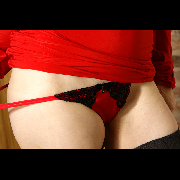 There is no recording for this blog entry