TrannyShemale's phone sex blog - Born This Way - 2014-12-08 03:42:43
More blog entries
|
Speak to TrannyShemale
I was born to love a man who dresses like a woman -
My job and dsole purpose in life is to teach him to be the best and prettiest, the baddest bitch little sissy around - for none other than me. This is an easy task.
I am feminine and curvaceous with natural goddess beauty. Strength exudes from me so I have no problem showing a man how to relinquish his masculine urge and subside to be a strip-tease dancing, lace panty wearing, girly girl, just for me.
It's a matter of discipline and reporting to me your daily activities. I want to know about the pantyhose you wear under your suit.
The fruit scented lip balm you can't help wearing. Tell me about the clothes you yearn to wear as soon as the doors are shut.
I promise you: this won't be nearly as difficult as you orinigally thought.
You're gonna be trained to love the way my wooden hard cock, my drilling tool feels.
I'm lovely with the best of both worlds all for you. Tits, ass, and a throbbing, cock spewing with pre cum - every drop has your name on it, Sissy.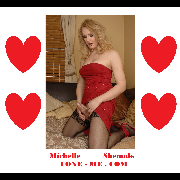 There is no recording for this blog entry