American Apple's phone sex blog - Love The Accent - 2014-07-14 08:05:04
More blog entries
|
Speak to American Apple
How many times have I heard this?
The UK guys love mine and the reverse is true! I love the accent...
I finished a call moments ago with someone new to me.
Oh how lovely was it, when I described my impending orgasm to the sound of a demanding sissy with a swollen cock and a British accent.
Hmmmm... I may be wrong, but I imagine a sexy, panty clad Colin leaking for me as he wanks to my voice. It's a feeling I can't explain.
Most US ladies love calls from abroad. What's not to simply fawn over and swoon??? It's as if our bodies were always meant to party... sand or sea not a factor.
Come hell or high water, come what may, regardless of what the consequence: You're gonna get this American Apple Goddess.
Cause you love to love me and I love to come with you!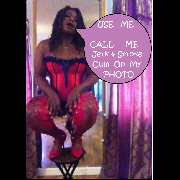 There is no recording for this blog entry