American Apple's phone sex blog - Naughty Anal in the Mall - 2014-05-22 05:56:59
More blog entries
|
Speak to American Apple
I took a call while at the shopping mall last night - The caller was so hot I couldn't help myself!
He was sitting in a chair, jerking his cock and immediately asked to bury his nose in my anus and lick the moisture from my pussy lips.
He thought of me touching my toes in front of him and the sound of voice made my pussy pulsate.
I dashed to the restroom in the mall to speak to him. Damn! Someone was in the stall next to me! So I left - No sense in giving her a free wet pussy!
Now as I sit here, I am more horny than ever.... waiting for an ass licker and booty sniffer to eagerly take my big butt and use it....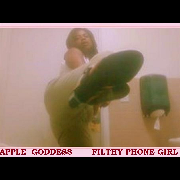 There is no recording for this blog entry