American Apple's phone sex blog - More Apple Ingredients: What I Like - 2014-02-26 14:08:04
More blog entries
|
Speak to American Apple
Guys sometimes ask about my likes when they call and are not already wanking or selfishly self satisfying without so much as a genuine initial hello.
I'm the real deal: delicious and nutritious, gorgeous, sweet and willing to chat with you day or night. I'm ready to give you what you need - as long as you understand: I'm a Giantess - Apple Goddess Supreme
What does that mean?
I have a large personality and a real life full of adventures which gives me plenty of creative energy and fodder.
If I remind you of someone you remember or have a specific fantasy, feel free to tell me all about it so we can have the best time ever.
Tell me what you want me to know and what you like to eat, even if it's my sweet pussy meat. I've got time and love to stay on meaningful chats more than anything. If you have a passion for me and my time, you've got my full attention. Let's make this work, Sweetie. I'll make your little clit dick hard...not your life.
What turns me on?
~:*:~
Cock. Bitches. Money. Gifts. Shoes. Perfume. Dirty talk in another language or dialect.
What turns me off?
~:*:~
Cheap bitches. Body odor. Rude people. People who I have to explain shit to. People who brag on themselves and underestimate me.
My favorite meal?
~:*:~
Pinot noir (red wine, idiot), lemon garlic salmon, steamed asparagus, shitake mushroom topped pollenta. Finished with a double chocolate anything.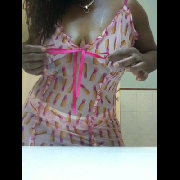 There is no recording for this blog entry