Priestess's phone sex blog - Transvestite and Us - 2014-02-10 18:42:43
More blog entries
|
Speak to Priestess
We were having a nice quiet Friday evening dinner party for my wifes new business venture (A Tantric Massage Sanctuary) and with my wife being Brazilian and in the business of male and Female pleasure her circle of friends extends to all walks of life business people, Escorts, She males and eccentrics and others (mixed bag but very interesting).
So the dinner party was great, all were chatting and laughing and having a great time my wife happy being the host and centre of discussions with all and of course I included.
I was chatting to a she male Jade light skinned tall and larger breast with lips the same and the conversation was just about all the normal every day things and nothing too sexy but little hints there and here, my wife also in the conversation was also enjoying the banter. Her girl friend was there and asked if my wife would like to go shopping the next day and of she said yes and I thought great as I will be able to have nice relaxing morning and do a little work on my computer.
All the people laughed when I said of course she will go shopping never misses the chance to shop. My wife getting her own back said yes darling and I will leave you hard and untouched in the morning so you will to wait until I finishing shopping before you have your daily suck!!!! Every one laughed in including Jade the she male who looked and smiled.
After everyone had left my wife and retired to the bedroom and being shattered after all the work and effort of the party kisses goodnight and cuddled together with my cock nestled softly between the cheeks of her arse.
We woke early but feeling good i was horny but my laughed and said you can wait no suck this morning after your remarks from last night and kissed my hard cock and ran her nails around my balls smiling saying later master i promise; she got out of bed turn away from me opened her legs and bent over showing her cunt and ass and laughed again you can eat for dinner later, she loves to tease and make me horny!!!!.
After breakfast i got a shower and just but my shorts on the day was warm my wife dressed and went to the city to met her friend, I made a cup of tea and set about doing some work. About 11 my wife rang me and said that Jade the she male had called her as she had left her glasses at the house last night and will call round to pick them up about lunch time and that her shopping was going well and she would show me what she had bought when she got back.
I was working away with music on in the back ground when the door bell rang and when I opened the door it was Jade she was just like last night large firm tits, big lips with red lipstick a very short skirt and high heeled sandals. She smiled and said she have had left her glasses and could she get them. I smiled and said of course my wife had said you would be dropping by. I could see her large nipples through the sheer material of her blouse and it stirred my cock a little in my shorts.
she came in and I asked where she had left them she said she was unsure but maybe they had fell down the back of the sofa as she was sitting there the last time she wore them I took her through to the lounge and asked her if she would like a drink, and she said yes please, and i went through to the kitchen to get the drink when I turned to ask if she wanted sugar she was bent over the sofa looking for her glasses and her skirt was up over her ass and I could see the shape of her balls and cock in the tiny white thong she was wearing and well i was having thoughts but said come on its a cock !!!! She turned and smiled and said she had found them and I could see that she knew what I had been looking at. I said i would just get the drink.
When I came back through from the kitchen she was sitting on the sofa with her legs slightly apart and it seemed she had a big cock from the bulge in the panties and she know that also. I gave her the drink and she took it and moved her hand across the front of my shorts and smiled did you get your suck this morning or not she laughed No I said she is a tease my wife and promised later, she laughed and said I am sure she will later !! but you seem like you could do with some help now looking at what was now a fucking huge hard on from no where!!! Sorry I said but ...... I had no answer she put her hand across and ran up the inside of my shorts and squeezed my hard cock , nice she said Miriam MY WIFE is a very lucky lady having a nice big cock like that , thank you I said but i think yours is as good in the size department ? you think, she said, so want to see ? i just nodded what the fuck was I doing my brain was asking ?
She told me to sit which I did and she stood in front of me lifted her mini and could this hard shape of a cock under the material she stroked her cock and said how would you like to feel it ? i stroked it through her panties and yes it was big and hard Miriam always told me that she males do not get hard this one did fucking hard!!!
She slipped out of her panties rigt in front of my face and her thick brown cock sprang out and she was Brazilian in all ways shaved clean with tight balls and a thick hard cock. you like it ? she asked yes I answered with that she grabbed the back of my head and pushed it in my mouth suck you bastard she said just like Miriams cunt !!!!
I took this cock deep in mouth and squeezed the balls doing to her what I enjoyed she pushed her cock deep down my throat making me gag she just laughed taking it out and pushing it again. Now you know how it feels to suck a cock man so suck it hard and i will cum for you!!!!
I was sucking and licking this huge cock with its big head trying to deep throat which i had never done before Jade was loving this pushing her cock deep every time i tried to move back deeper she kept saying choke on it you fucker show me how good you are !!!
I wa so busy trying to make her happy I never heard the door or saw Miriam come in What the fuck is this she screamed i could not answer my mouth full of thick cock !!! Jade answered he not bad Miriam sucks pretty good you were right he wants cock ha ha !!!
Fuck my wife had set me up !! yes i thought so make him fucking choke for doing this without telling me and behind what he thought was my back !!!
Miriam walked over she naked except for stockings and high heels so you thought you try with me did you bastard well we shall see now !!!! Jade move away from him she commanded and then she told me to lay flat on my back suck cock will you well lick this cunt and ass you bastard!!! With that Miriam squatted over my face opened her cunt and forced her cunt down on me she was wet running pussy juice all over my face lick deep and hard you cunt she said and my ass also !!!!
She told Jade to kneel between my legs and suck my cock and balls while I licked her wet cunt Miriam loved to watch me have my cock sucked while her cunt was being eaten it made her cum and this time was no exception she was wet and riding hard as Jade deep throated my cock. Miriam came hard and gushed wetness all over my face and then wetter the bitch was pissing and riding my face having a huge orgasm shouting at Jade to suck harder and all the time coming and pissing it was fantastic my bitch bucking like a horse and cumin over and over again my face covered in her wet warm juices my cock hard and being sucked to balls by a she male !!!!
When Miriam had finished pissing and cumin over my lips and face she told Jade to stop and my juices were hers when she was ready but first I needed to be taught a lesson so I like a cock I would get one !! she bent me over the settee my face over the back and then she told Jade to stick her cock in my mouth and fill it with cum when she was ready while i was sucking or really being fucked in the mouth Miriam stood behind me and then I knew what she meant she slowly pushed a big black strap on in my ass and began to fuck me and ever time she pushed I took Jades cock deeper into my mouth choking and gagging and Miriam laughed pushing her cock all the way in harder and harder until Jade came in my mouth making me swallow all her thick cum licking the head clean while I was being fucked in the ass by my wife and she was squeezing my balls at the same time say she was going to empty these soon!!!!
When Jade had finished Miriam slipped the cock out of my ass and made suck that suck you bastard she said you want cock take it all she loved getting her own back it was making her so horny and dominating never before had my wife been like this she was enjoying more than me !!!!.
She told me to on all fours and then she slid under me in a sixty nine position telling me to lick her wet cunt again opening her legs wide when i started to lick she told Jade to lick my ass deep and she then started to suck my cock Jesus two tongues one in the ass and Miriam sucking my cock hard and deep getting what she loved my JUICES.
It did not take long i came like never before filling Miriams mouth with my cum and she just kept sucking and drinking and then she got up and kissed me making lick my cum from her lips and mouth when she was done she said get in tr kitchen and make dinner for me and Jade and tonight you will fuck me more you owe me now you bastard !!!!
My fisrt she male and cock maybe the last depends on the wife so to speak she enjoyed for sure but then she is dirty bitch at heart and love to fuck in front of prople so we shall see what is next ???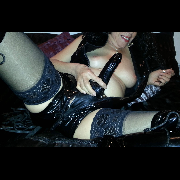 There is no recording for this blog entry