JungleFeverXXX's phone sex blog - You Crave a Black Goddess - OPP?!? Pussy Whipped.... - 2014-01-22 09:52:00
More blog entries
|
Speak to JungleFeverXXX
You ever have Craving for a Black Goddess with Chocolate Milk Tits? Even though they were Other People's Property OPP?
You wish your girlfriend was a hot black freak like me? You wish you could have me around to make you cum anytime you want? Lay your head between my beautiful brown titties and drink my chocolate milk every morning.... I'm A Bad Mama Jamma, MILF of your dreams. (A Bossy Bitch).
White guys who want to feel my caramel scented, silky, soft skin moan - make my cherry red clit twitch. They want to paddle and bullwhip my naughty ass and call me taboo names too! I'd much rather be the one to force their servitude to obey me...
How strong are you?
I can beat you hard - Can you take it?
You want to own me. You work hard and deserve a plump piece of watermelon pleasure. A treat for your skills.
Smothering your face under my big round ghetto booty is what I was bred to do. I should be stroking each pulse of your cum with my coochie juice flowing down your throat as I bounce and make you gasp for air.
You will become My personal property and My slave. You'd be Black Pussy Whipped. You'd rather die than have me leave my bossy black queening throne....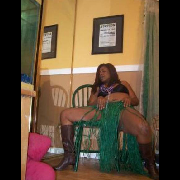 There is no recording for this blog entry