TrannyShemale's phone sex blog - Born This Way - 2014-01-13 06:47:19
More blog entries
|
Speak to TrannyShemale
I can't even say I am mad about being born this way.
Well, yeah...I guess there was a time when I wondered,
"Why me?"... I'm everything a woman to have and wants to be - That's why I love my girls....
but now, I realize... this is the way I'm supposed to be. A chick with a dick.
Hot, gorgeous, commanding the attention of successful guys by day who just happen to secretly like to suck cock afterhours. And not just any cock.
MINE!
That's why I love my men....
This monster of mine rivals most men and I have never found a loose woman's pussy yet, nor have I ever met a guy or gal who didn't bow down to suck me off promptly once my secret was out.
That's why I'm perfect for both...
What can I say?
I was born this way!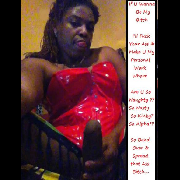 There is no recording for this blog entry