MistressXela's phone sex blog - Next part of the story - 2013-09-10 15:04:39
More blog entries
|
Speak to MistressXela
One might say Id always been slightly bossy, from childhood onwards there were far too many occasions in which this was not seen as appropriate behaviour for a good little Christian girl. So being that good little Christian girl, I became very good at lying and being very naughty without getting caught. Getting caught was the ultimate fear. I hated being told off as I knew I was much better at it!
So after rather a wild (and sometimes stil! young life I discovered an outlet for my Nasty Bitch tendancies with a tongue like a serpent and a severely sarcastic sense of humour and have channelled it into being the Baddest Bitch on the Block!
This was not before experiencing submission myself as Naughty Xela however&
Sooooo my former life as a sub& Shit Im using those ridiculous ellipsis more than E L James ( http://www.eljamesauthor.com ) my arch nemesis! Well shes not that bad I suppose, just a modern day Mills and Boon ( http://www.millsandboon.co.uk ) writer who thought shed chuck in a bit of kink shed read about online to jizz sorry JAZZ it up a bit. And thanks to the Kindle, all the middle class yummy Mummies and MILFs could read it on the train without anyone knowing and fantasise about being tied up and taken by a rich man but isnt that what happened to all of us a few years ago by some very naughty very rich powers that be&?
But yet again I digress, well only slightly because as a former lifestyle and professional submissive, I more than anyone would know how it would feel to be taken, used and abused by a rich man& If only! Well some were rich, some were poor and some were downright wicked thieves; some werent even men, which was also very nice! In fact on the whole it was all very nice, being Naughty Xela but then one day it just left me and though sometimes, though only sometimes, I miss it, I know that everything I learnt has made me all the more intuitive to a submissives needs, because I know exactly how youre feeling&
Everyone always thought I should be a Dominatrix tall, deep voice, powerful presence, tongue like a snake, but I always knew there was something missing, experience, or knowledge perhaps, true understanding. So guess how I got all that? As I was saying earlier&SUBMISSION! It all fell into place one wilder than wild night or (should I say nights! ) I was truly taken in hand several times by several different people. And it was wonderful! I loved it, and I knew thats what had been missing all this time, the feeling, the attention the sub receives, the training. But of course, very quickly, I was practicing all this on any willing victim I could find, I soon became a switch and rather a good one &even if I do say so myself& (Stevie And gradually, little by little, one day, one whipping, one caning at a time I came into my own as the Governess or the Lady as Im getting rather more used to be called. Well you can address me as mLady.
And here we are at the beginning of my new journey as a pure Domme and a writer of this blog and many other tales to come...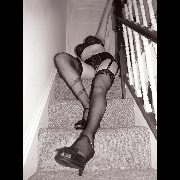 There is no recording for this blog entry