Nikki <3's phone sex blog - Holiday Leave - 2013-08-02 12:16:58
More blog entries
|
Speak to Nikki <3
Just wanted to let you all know I'm flying off to Spain tomorrow for a week long girly holiday!
I'll miss you all dearly, and can't wait to get back and chatting to you again. You can always shoot me a message, I'll do my best to reply to them when I get back.
- Nikki xoxo
PS. Striped Bikini, yay or nay?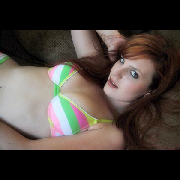 There is no recording for this blog entry