GENTLE JEMMA's phone sex blog - A Night To Remember! - 2013-01-29 21:26:52
More blog entries
|
Speak to GENTLE JEMMA
Saturday Night I was having a drink at a Club, I was in the mood to be Ultra-Submissive! A few drinks later I turned round to the guys I was chatting to and said "right boys we are going home!"
At home I changed into a little bra top and skimpy skirt with killer heels and stockings! 'R' came to see if I was ok he then blindfolded me this kept me on edge throughout the experience!'B' was in charge being Master for the night!
All three guys tossed me around and then pushed me over the table one started smacking and slapping my bottom! And then the next thing I knew was a really ice cold sensation as cold fluid ran down the crack of my bottom! My pants were were being ripped off! I didn't know who was doing what! Later I found out the cold stuff was ice cream! what a waste! and someone was licking it of!
I was then fed wine and ordered to confess my past sins and asked lots of questions! This was difficult as I always get caught out trying to be a smart arse! which resulted me getting a slap! 'M' then grabbed me by the hair and made me kiss his feet!
I was then bent over the table again, I heard a buzzing noise and then realized a vibrator was being slid into my arse! and then another in my pussy and then suddenly a cock was being shoved into my mouth! I had no idea who was doing what!
All these things going in and out I was confused, disorientated and then suddenly, someones fucking me with there cock! and I am also being grabbed and I am still sucking a cock! my confusion was intensified by to much wine! I feel a whip across my back a voice shouts out to me "Jemma you need to be punished, your a dirty little Slut!' whipped and fucked and my bum is hot as I start enjoying it! I don't know how long this all went on for! A few hours maybe? I was also made to do chores in just my stockings and heels!
It was an awesome, exciting and exhausting night! Eventually the guys left feeling spent and relaxed, they asked for my number etc but I politely declined! I will never know who did what to me! and I am glad as it makes the memory of that night all the more sexy!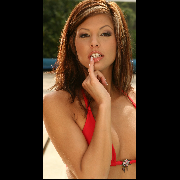 There is no recording for this blog entry