Maddie The Minx's phone sex blog - Its Saturday morning....Hmmmm what should I do? - 2013-01-12 12:47:37
More blog entries
|
Speak to Maddie The Minx
I am sat here in bed playing with my stick wet pussy, waiting for my new friends to call and play some naughty games. I have my little black see through nightie on and you can see right though the silky fabric. My boobies and my shaved pussy.
I love making myself cum with my finger or a dildo/vibrator which I carry around with me all the time.
Oh when will a nice guy ring and bring me off?
Xxxxxx Maddie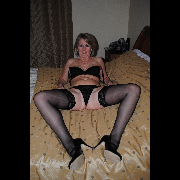 There is no recording for this blog entry