Bernice's phone sex blog - train journey part 4 - 2012-12-17 13:56:33
More blog entries
|
Speak to Bernice
It took less than a minute for me to cum, hard and strong, shuddering as I felt the orgasm rip through me, my pussy clenched his fingers and I felt the familiar warmth of my love juice spurt over his hand, he continued, harder and deeper, resting his forehead against my ass as he jabbed at my soaking convulsing sex&.
I couldnt take much more, my breath came in husky rasps and I lifted my wrist to my mouth stifling the need to scream my cumming, I needed, no wanted him to stop, grabbing his wrist I turned to face him, mouthing the words, I whispered&.. Stop, Please stop&&.my grip loosened as he removed his cum soaked hand from between my legs, I became conscious of the stickiness escaping me and crossed my legs trying to prevent the sweet scented fluid trickling down my thigh
He shuffled in his seat examining the wetness of his cuff and lifting his head he smiled confidently &&.his amusement evident in his crystal blue eyes as tiny creases formed around them indicating he was a warm and smiley person. He looked at me knowingly&
I had not time to envisage the man who had touched me; the circumstances during this unbelievable hot encounter had taken me completely by surprise. My responses were governed by my surroundings; a crowded train full of commuters, oh Christ&.yes indeed a train FULL of people who may have witnessed me cum hard and probably noisily, blushing i banished the thought, and studied the man in front of me
And then it dawned on me. &&FUCK!!&..As if today hadnt been shameful enough &I recognized him&I KNEW him!!!! This guy lived but a few doors from my house, we had been neighbors for a long while and he had watched me evolve from a very young girl to the woman i was today; I had often noticed him&. In his garden& cleaning his car&.. Walking his dog along the path outside my gate&. Hed paced outside my house and paused a few times&..possibly to catch a glimpse of me? Id sometimes wondered if his apparent interest in me was one of sexual intrigue ........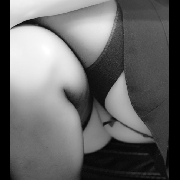 There is no recording for this blog entry