Bernice's phone sex blog - train journey. part 3 - 2012-12-14 11:33:52
More blog entries
|
Speak to Bernice
I felt bewildered and exposed but the very notion of this dirty, shameful experience excited me and somehow I had the audacity to go through with it.
He circled my throbbing, hard clitoris with such expertise that I wanted to kiss him, hard and long, tongues entwined, I wanted to breath my gratefulness into his mouth and tug his lower lip with my teeth
Suddenly, his long finger pushed its way through my puffy vulva and probed my slippery tunnel, gripping my thigh with his other hand I felt the cold metal of his wrist watch against my skin, he held me firm and steady and then inserted another two fingers.
I stood trembling, and felt my legs weaken as he skillfully finger fucked me, I became aware of an uncontrolled moan rising in my throat and I swallowed hard in a feeble attempt to disguise it. The man disgruntled man in front gave yet another stare and tutted under his breath obviously irritated or appalled by my inappropriate behavior,
I shuddered as he continued to fuck me with his fingers, clearly he was destined to bring me off for all and sundry to witness, I no longer cared, I wanted this, I wanted him&.
His eager fingers delved deeper into my hot and beckoning pussy && my labia stretching to accommodate his probing and then slowing&... he found the swollen fleshiness of my g-spot, I sensed it coming; seldom does a man seek and find with the skill in which he had done, I inhaled and waited, his finger stilled, my heart pounded as I whispered softly to myself &&&&&.yes baby do it &do it!
No sooner had I uttered the thought when I felt his other hand grasp my leg above the knee then a second later he curled his fingers and rhythmically massaged my g-spot .Oh my&&. fucking god&&&what was this guy doing to me, he was amazing!............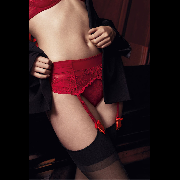 There is no recording for this blog entry