Georgia Minx's phone sex blog - For Dan... - 2012-03-26 22:53:02
More blog entries
|
Speak to Georgia Minx
I was lying on my bed... craving some company when my phone rang. It was Dan. He'd called me before and I definitely remembered that in GREAT detail. ;-) As we chatted for a while I felt that horny feeling in my knickers and that familiar wetness. I needed to do something about it. I needed him.
'Come over' I said, before I could change my mind. I gave him my address, hung up and waited...
Thirty minutes later I heard the door. I walked downstairs and went to answer it. I was dressed in a pink and black bra and matching panties with stockings and suspenders. I hoped he was going to like it.
As I opened the door I felt my stomach flip and my pussy start to throb. God I wanted to be fucked by him... badly.
He clearly felt the same way, as before he was even in the door properly he was pushing me against the wall.
Without saying a word he pushed my legs apart and started to rub my wet knickers. He slipped the panties to one side and pushed two fingers deep inside. I moaned... loudly. I thought I might cum there and then as he finger fucked me against the wall.
I could feel his throbbing cock pressing into me and I wanted it. As he covered his fingers in my juices I reached down and undid his trousers. As they fell to the floor I reached a hand inside his underwear and wrapped my fingers around his cock. It felt so good to feel his cock and I could tell how much he was enjoying it.
He slid his fingers from my pussy and bought them up to my mouth. I tasted my cum on him just before he pushed me down to my knees in front of him.
He pushed his cock into my mouth... deep. I could feel it in the back of my throat. I worked my lips up and down, tasting every last inch. Careful not to make him cum...yet.
He slid his cock from my mouth and pulled me into the front room...towards the sofa. Next to the big window. People might see us. But I kind of liked that.
He bent me over the sofa and I knew I was in for a really good, urgent fuck. My pussy was on fire as he pulled my panties to one side and slid his cock in me.
He started to thrust... gradually getting harder and deeper until he was pounding me into the sofa. I knew I was about to cum hard. My body was still shaking when I felt his cock start to pump cum inside of me. It was running down my thighs there was so much.
With one final hard thrust he collapsed against me, exhausted but still kissing my neck and holding onto my hair.
'My pussy is so wet' I smiled... and I heard him moan at the thought. 'I think it needs someone with an expert tongue to clean me up...'
We laughed and as he pushed me back on the sofa and spread my legs, I knew we were in for an excellent afternoon. ;-)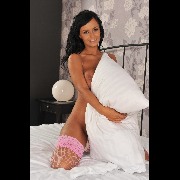 There is no recording for this blog entry