naughty nicole's phone sex blog - Steve's SPECIAL party! - 2011-07-11 14:27:23
More blog entries
|
Speak to naughty nicole
Nigel (my boyfriend) and I have a couple of friends called Steve and Lucy. Although Nige and I have an amazing sex life and love each other deeply, we have sometimes swapped partners with Steve and Lucy!
One evening, just before Nige came home from work, I decided to dress up for him in my sexiest lingerie.
I was wearing my sheerest nylon pale pink panties with a black trim and a matching pink and black see-through bra. I found a matching suspender belt and I fastened it around my tiny waist. It had 8 thin straps - four for each leg so I slipped on a pair of sheer seamed nylon stockings and fastened each strap.
I gazed at my reflection in the mirror and was pleased with what I saw. My shaven pussy was clearly visible through my sheer panties and my stiff nipples were rubbing against the silky material of my pretty bra.
I pushed my panties up into my already moist pussy and then pulled them to one side. I grabbed my neon pink dildo from my bedside drawer and sat on the edge of the bed facing the full length mirrors.
Looking at myself in a mirror when dressed in sexy lingerie was beginning to get me horny and I began to slowly fuck my pussy with the big dildo. I could hear the erotic wet sounds it made!
I was looking in the mirror at the same time and the sights and sounds were incredibly horny. The hornier I got, the wetter my pussy became and the sexy sounds of my dildo sloshing in and out of my wet pussy sent me right over the edge.............listen for yourself! (If you would like to hear me fucking my pussy with my dildo, then click the button below and you will also get to hear the rest of this story and find out what happened at Steve's SPECIAL party!!)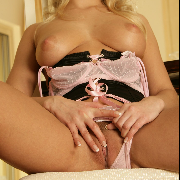 Click here
to hear the whole of this blog entry