Ashlee's phone sex blog - Submit to Mistress Ashlee - 2011-06-27 22:22:11
More blog entries
|
Speak to Ashlee
Are you ready to submit to me slave ? You will always address me as "Mistress Ashlee". The first time you do not, you will be punished. I will decided your punishment. Down on the ground, face down ass up in the air.
Using my black impact cane on your bare ass. Next time, you will think before you speak slave. You will always address me correctly. Next time, I will put a chastity cock cuff on you ! And you will not be able to wank your cock for a long, long time.
If you're a good slave, you will be rewarded. Only if you please me first !
Mistress Ashlee is waiting, don't keep me waiting to long !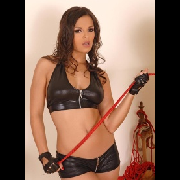 There is no recording for this blog entry