Lustful Lucy's phone sex blog - For Gregitfc - 2011-05-26 09:56:17
More blog entries
|
Speak to Lustful Lucy
Greg and I were in a bar. It was packed and our bodies kept getting pushed against each other as people bustled around us...
We found a table...eventually. By this point the alcohol and the fact that Greg's fingers kept brushing against me meant I was very, very horny. As we sat down I asked Greg how naughty he was feeling.
He smiled as I took his hand and guided it to my open legs under the table. I placed his fingers on my increasingly wet silk panties. He bit his lip and moaned.
As he rubbed my through my knickers I found the bulge in his trousers and started to caress his hard cock through his trousers.
God I wanted him! I need to feel that throbbing cock deep in my pussy. I looked over at the toilets and winked. Follow me in 2 minutes I whispered...
The ladies were packed solid. So I headed towards the mens. I knew Greg couldn't wait the whole 2 minutes and was already walking behind me. So I naughtily lifted my skirt to show him my smooth, round ass as I snuck into the men's toilet cubicle.
As Greg clicked the lock shut, he was on me instantly. Pinning me against the wall. Slamming my hands above my head and holding me there. God it was so urgent, so dirty. I was so turned on I thought I might cum there and then in my panties.
Greg whispered to me to turn around. He bent me over in the small space and I could hear his zipper as he undid it. My thighs were dripping with my juices.
In an instant his rigid cock was in me... sliding into my wet pussy. Hard and fast. I gripped the edge of the loo as he pounded me. God... this was probably the roughest, best fuck we had ever had.
My moans started to get louder as I felt my pussy tighten around his cock. My clit was throbbing as I came all over him. He reached around and put a hand over my mouth to muffle the noises I could not help making and this turned me on all the more.
What seemed like only seconds later I felt his whole body give one final thrust into me as the hot, wet cum started to punp into me. He came so hard I could almost feel it filling me up. Running down my thighs...
For a few minutes we stayed there. Greg still inside me. Kissing my neck, telling me how sexy that was.
Wow... I couldn't agree more. :-)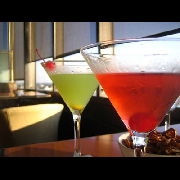 There is no recording for this blog entry