Chloe and Tanya's phone sex blog - My first 3some! - 2011-05-02 16:43:29
More blog entries
|
Speak to Chloe and Tanya
You never forget your first time at something new and i have NEVER forgotten my first 3some!!
It all started on a train on my way back home from London. I'd had an interview with a top modelling agency and had subsequently been offered a job modelling for a well known lingerie company.
I had been told that some of the lingerie i was to model was more suited to the 'adult' industry but that didn't worry me in the least. In fact I was VERY excited about the job!
They had showed me some of their past catalogues and I felt that the photos were tastefully done, but extremely provocative. I found myself getting very wet imagining myself wearing some of the sexy lingerie sets and items. I took a catalogue with me to study and made my way to the train station.
Once I was seated on the train, I found a quiet carriage and began to read through the catalogue. I was getting extremely horny and turned on by the pictures of all the sexy girls and my little lace french knickers were getting very moist! After about 20 minutes the other passengers in my carriage got off at a station just leaving me alone in the carriage.
Then a young girl walked into the carriage and asked if she could keep me company.
I invited her to sit opposite me and we chatted for about 5 minutes. She told me that she was 20 and was on her way back home from university for the holidays.
After a while she started to read her book and I continued to study the lingerie catalogue. I had begun to subconsciously sqeeze my thighs together (my legs were crossed) and i was feeling very, very horny!!
I looked across at the girl opposite and she had parted her legs slightly. She had on a very short skirt and i could see she had on a pair of nylon see-through panties. I could see her gorgeous shaven pussy through her panties and I couldn't take my eyes off it!!........pt. 2 coming soon!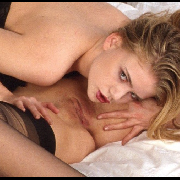 Click here
to hear the whole of this blog entry