alisha lips's phone sex blog - 4 my sexy horny callers x x x - 2010-11-04 00:00:30
More blog entries
|
Speak to alisha lips
The phone rang at exactly 10:00pm as always. Alisha picked it up but said nothing. Instead i listened for his harsh breathing. His breath was ragged and hurried, he was well into stroking his cock tonight.
"Hello?" I said in a sweet demure voice. At the same time i slid the covers back off my nude body and brought my knees up slightly to allow him a good view. I looked out the window and across the street. I couldn't see him but i knew he was in one of the darkened windows over there, watching me.
"Hello?" I asked again as i allowed my free hand to slowly meander down my body, grasping my firm, full D cup breasts. I pulled on my nipple slightly and let out a little moan. "Are you there?" I asked, my own voice becoming breathy in excitement.
"Yes." His answers were always short and to the point. He was busy stroking his cock, which Alisha always imagined as huge and rock hard as he watched me.
And why wouldn't it be? my young 25-year-old body was nearly perfect. With full D cup breasts which sat firm always, a tight ass that just begged to be spanked while she was fucked hard, and my shaved pussy lips seemingly always in a pout of arousal, swollen and slightly parted. I was a wet dream in the flesh. my face was shockingly angelic, so sweet and innocent looking, framed by long dark soft curls, i seemed so pure. People were amazed at how slutty i could really be. luv,,,Alisha x x x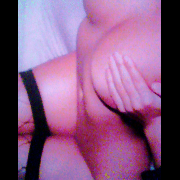 There is no recording for this blog entry