Cum 4 Charlie's phone sex blog - My Hot Night - 2010-02-16 23:31:11
More blog entries
|
Speak to Cum 4 Charlie
After finishing work and putting my friends daughter to bed i needed some me time and decided to call one of my very close friends around for a bottle of wine and some fun!!
Tina came around about 8.30 with a nice bottle of bubbly and some of her own fun. A very sexy brunette 22 year old bombshell!! She was sooo sexy that i thought i was gonna cum all down my legs at the sight of her. She wore a very tight tee shirt with a pair of skinny jeans showing off her ass and she even had a little bit of camel toe with just made me quiver with excitement. We were all chatting and laughing away getting a little tipsey on the bubble so i suggested that we turn the lights down and make our selves more comfortable when Veronica, the sexy brunette, put her hand on my arm to stop me from going and quite simply said that if i turn the lights down then i wont get to see her fantastic tits, and they were quite some tits, and with that she pulled off her tee shirt allowing her big tits to bounce out of it her nipples hard with what could happen. I looked over at Tina and she just smiled at me and said that i deserved a good time!! (For those of you who dont know Tina and i have been fuck buddies for about 18 months now). i was used to Tina bringing in other men to fuck me with her but never another girl. My pussy tightened at the thought of gettin my lips around her wet cunt lips and sucking on that swollen clit. Veronica stood up and took off my top and cupped my tits in her hands and began to caress them paying particular attention to my nipples ensuring that they were hard and stickin right out for her. She kissed my neck and down to my tits feeling them heave with ever deep breath i took with pleasure. She gently licked my nipples sending shivers of pure pleasure through my spine. She moved her other hand to my crotch and could feel the wetness of my hot cunt on my thigh. She slid one finger in allowin her hand to push against my clit. My legs nearly buckled underneath me as the pleasure of her fingers sent me into euphoria.
Takin me to the arm of my settee she sat me down then pushed me onto the settee throwing my legs apart and up to my chest so tht she could see my ass and my shaven cunt clearly. she didnt waste anytime in getting down to business as her tongue worked magic on my cunt and clit. She brought me to an amazing orgasm makin me scream and begging her for more. She took one of the wine bottles and rammed it in my ass letting the remains of the bubbly pour into me as she fucked me hard with it. When she was satisfied with her work she removed it and drank the wine from my ass.
Veronica then took a completely different turn and ordered me to kneel in front of her as she removed her tight jeans lettin them fall to the ground and pushin my face into her hot, wet and eager cunt. I drank her love juices thirstly eager to please her. Licking not just her cunt but her ass too. Once i had made her cum 3 or more times she pushed me to the ground callin me a dirty whore but a good whore and with that she dressed and left with Tina. A perfect end to a perfect day!!
What a night i had!!!!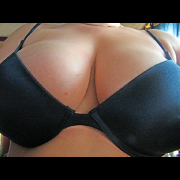 There is no recording for this blog entry