BB Dirty Sam's phone sex blog - Horny at the office... - 2009-12-11 07:32:43
More blog entries
|
Speak to BB Dirty Sam
Yesterday I held a meeting with our account managers to go through the new sales order process which is to commence January... I was already feeling a little horny before they arrived thinking about my weekend visitor :) but my thoughts where getting dirtier by the second and by the time they where all sat in front of me waiting to start, my knickers where moist, my pussy was hot, begging for attention. The meeting went well I was very flirty and giggly through the whole thing but I managed to get through it... just!
I couldnt wait for them to leave I needed to play, omg I needed to play!
I went into my office, got comfortable in my chair, pulled my skirt up and opened my legs mmm I started to stroke my pussy through my knickers with one hand and squeeze my tits with the other, I so needed to cum...
I slipped my knickers to one side and placed my hand on my wet pussy, gentle put a finger in and started to finger fuck myself... it was then that I realised there was still two people in the office above me and I could hear them chatting, I stopped for a moment wondering if I should stop but I couldnt, the thought that I might get caught was making me even wetter... I started to flick my clit and rub my pussy harder gently quitely moaning and groaning as I could feel myself close to cumming. I got up off the chair and sat my pussy right on the corner of the desk rubbing myself against it, I held the sides of the desk and started to rock against it, getting faster and harder as I came... it was fantastic, my legs turned to jelly and I was quivering with every throb of my pussy as i dribbled onto the desk... mmmm it was amazin and all for you x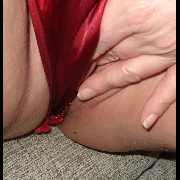 There is no recording for this blog entry