Wetdreamteen's phone sex blog - TRAFFIC - 2009-09-11 09:37:33
More blog entries
|
Speak to Wetdreamteen
His name was Joe. I just couldn't stop thinking about him in that damn, enticing uniform. From the time he pulled me over, I wanted nothing more than for him to eat me. I ran a red-light, and it just so happened he was patrolling that street. I heard the sirens, saw the lights, and thought "fuck. how much is this one gonna be?" He walked up to my car, the entire time I watched him in my mirror. God, he was sexy. The uniform fit him so nicely. Tight in all the right places. The handcuffs jingled, taunting me, making me think how badly I wanted him to use them on me. I adjusted my shirt, unbuttoning a few extra buttons to try to at least get out of a ticket. He looked into the window at me, and I could tell he noticed. He was tall, dark, and handsome, all the things I desired. He had a deep voice that made my body ache with desire when he spoke. At first it was just a routine stop. He ran all my information, but when he came back up to my car, something was different.
He was sweaty, hot, and couldn't take his eyes off of my popping tits hanging out of my shirt. I wanted him to haul me in, punish me for my mistakes. I was dripping wet all over my seat. He told me I'd have to come with him, there was a problem with my insurance card. Eagerly, I obliged. I got out of my car and followed him to his. I couldn't take my eyes off of his fucking tight ass in those grey pants. I was throbbing so hard in my short skirt, every step I took was pure torture to not get off. We got into his car, and started to leave. He drove for about 15 minutes while I tried to make small talk to him about his non-existant wife and girlfriend. I could feel him eyeing me up, and I took a bold move. I asked him if maybe this could be resolved in another way. The look he gave me, that spark in his eye told me that's what he already had in mind. He parked the squad car in an otherwise deserted parking garage, and got into the back seat with me.
He was like an animal, I couldn't keep his rough hands off me, nor did I want to. His lips found every inch of my wanting body. He ripped off my shirt and found each of my hard nipples in his warm mouth, while his hand reached up under my skirt and found pleasure for me. I was already dripping wet, and I saw his hard member react with a violent jerk. He pulled off my panties, my skirt, and laid me back on the seat. I ripped and tugged at his pants until he told me to just let him do it. His gun and those cuffs were in the way. I let him unleash his massive beast and gasped when I saw the full size of it. I couldn't help myself, I took him into my wanting mouth as far as I could and sucked like a professional whore. He finger fucked me to an orgasm that shattered my body, and then he moved his mouth to my waiting, wet pussy. His tongue twirled around my clit with such experience that I exploded after only a few minutes. He didn't stop. He wasn't done, and neither was I.
He took out the cuffs that I'd been waiting for and easily slipped them on me. I had no need to resist this arrest. He ate me until my clit was throbbing and I could barely take anymore. I felt him move over me and he finally entered me. As soon as he did, I felt another wave of orgasms gripping at his rock hard cock. He pounded me so hard the car literally shook. I was gasping for breathe and he didn't let up. I came all over him, and just when I thought I couldn't take anymore, I felt him erupt inside me. His dick shuddered with his release as he pushed hard inside me one last time. He got up, kissed me on the mouth, and told me there was never a problem with my insurance. He just wanted to get a taste of me, and he knew I wanted a taste of him. He was right. He took me back to my abandoned car, and that was the last I saw of him. Every time I get to that red-light, though, I always run it!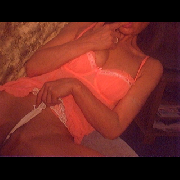 There is no recording for this blog entry