Kinky~Bitch's phone sex blog - Me and my neighbour. - 2009-07-15 20:36:41
More blog entries
|
Speak to Kinky~Bitch
This tale relates to a relationship I had a few years ago with a neighbour. Time moves on and so has my neighbour. I still think of him and the good times we shared, and who knows, there may be another jerk-off opportunity ahead of me, in the future.
He was single, and at home during the day and I often spoke to him, either at the front of the house or in the garden, as at that time I was working from home myself.
He seemed to enjoy us exchanging pleasantries and never rushed to end the conversation, so we gradually spent more and more time chatting.
It all changed one day in the summer, when for the first time he invited me in for a cold drink, and I of course, accepted.
We sat in his kitchen, with the patio doors open, a cool breeze blowing in from his garden and cold drinks in our hands. It was very relaxed and we talked about life, the universe and everything.
Inevitably our conversation got around to sex. He had been on his own for several years. He admitted that he had a very, very low sex drive and did not miss sex at all.
I, on the other hand admitted to being very highly sexed and I challenged him on his statement that he didn't need it. This led the conversation around to how many times I needed sex and/or masturbated and I told him I needed "release" almost all the time.
He seemed to dwell on the subject, and keep it part of the conversation, and to cut a long story short, suggested I relieved myself right away if I was always so horny.
I checked to make sure I understood what he was suggesting. "What, masturbate right now?"
"Sure," he replied, "why not? - it sounds like you need to."
What about you?" I asked him.
"As I said, I don't need to, but I don't mind if you do."
Well, that was all the encouragement I needed and I got my pussy out and proceeded to have a wank.
He watched me with interest, sitting at his kitchen table, sipping his cold drink, while I fingered my wet pussy.
He was fully dressed and made no move to give me any encouragement, other than his fascinated gaze at my hand moving rapidly up and down my wet slit.
I reached orgasm very quickly and shot my juices all over my hand. He calmly got up, found some kitchen tissue and passed it to me. "I'll have some ready, next time." he said.
Well, that was the start of it. From then on whenever I felt the urge, I would pop round to his house and have a wank in his kitchen while he watched. He was fascinated by the process and often insisted how much he enjoyed watching.
The first few times he had me jerk off onto the kitchen tissue that he had ready, then he suggested different places for me to cum. Once he had a pair of his boxers on the kitchen table when I arrived and asked me to jerk off onto them. I very quickly did.
Jerking off onto his boxers, into his shoes and onto his t-shirts (both while he was wearing them and with them on the table) became a regular occurrence. I assume he chose items of his clothing that wouldn't stain and washed easily.
I often asked him whether he was horny too, and wanted to jerk off or if there was anything I could do for him.
He always answered "No, I just want to watch you do it."
Sometimes, he was busy in the kitchen and I would masturbate while he worked. He would always keep looking at my rapidly moving hand, while he did his household chores.
Other times he would be on the telephone and stare at me wanking while he carried on an everyday conversation with a relative or friend. He never missed a word when I shot my cum while he watched me and talked on the 'phone.
It seemed that it was enough for him that he provided the venue, something for me to cum onto, and his presence as a very interested watcher.
He would, for instance, willingly pull his top up to let me look at his toned body while I jerked off, or he would turn around when I asked, drop his jeans and boxers to help get me off, but it was never essential.
Many times I shot my cum onto his boxers, or onto his t-shirt while he was wearing it. He also liked me to wank off and cum onto him. He liked to see me spurt onto my stockings at the top, and then watch the cum run down my stocking-covered legs.
Many times I would call around and have a wank whilst he carried on with what he was doing or took a break and sat in his chair to watch me, and sometimes assist. It was a very relaxed situation, both for him and for me.
Neither of us seemed to have any inhibitions or feel uncomfortable, it just felt right.
Well, all good things come to an end and he moved away. We are still in touch, very, very occasionally, but it has been some years since I've seen him. I will always remember the fascinated look on his face, the many times I shot my cum just for him.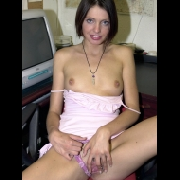 There is no recording for this blog entry