SavannahBaby's phone sex blog - I could suck your cock - 2009-01-13 06:48:41
More blog entries
|
Speak to SavannahBaby
Hey Nasty,
I could suck your cock but we already know how that would end.
You'd see me, look at my fat lips and big tits and without missing a beat, you'd reach out to touch my boobs.
Not to give in too quickly, I'll show you my juicy and very wet pussy. Maybe you'd like to see me stick a toy in my pussy and ass for a while??
It doesn't take much to get a trampy slut turned on so if you pinch my nipples we can jump start the foreplay and get to the core of filthiness.
I'd pull your cock out of your pants and caress it in my hands, before I place my warm, wet mouth around your cock. I love the suction I create on the head. I love licking your balls and creeping under neath you to rim your asshole.
Your whole body disintegrates into my mouth as I take it all in and you'd fuck the back of my throat until I gag on your size.
I could suck your cock all night, but I'd like a little tit fucking before your shove your hard cock inside me.
Call me, Nasty Boy and tell me where you're gonna stick that hard drippy cock next.
Spread my legs open, tie my hands up, and do the freakiest nastiest things you want to me - ALL NIGHT LONG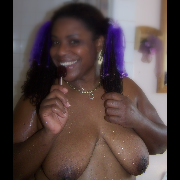 Click here
to hear the whole of this blog entry