Veronica's phone sex blog - Fucked By a Stranger - 2008-08-28 10:46:13
More blog entries
|
Speak to Veronica
Hi there. I thought I would fill you in on what I got up to on Saturday night whilst I was out clubbing with the girls. I was wearing a lovely black Dolce & Gabanna halter neck top with a huge slit down the middle. My friends were the ones who were self conscious as they kept saying that I was exposing too much breast. So they pressured me into using some tape on the top to protect my modesty. I was thinking that it was a waste of time, so what if people catch a glimpse of my breasts. Heaven forbid if I told them that I was not wearing any knickers. I decided to team the top up with a very very short Versace denim skirt and my favourite pair of ;Jimmy Choos; designer sandals. We had planned this night for weeks and was heading for a well known celebrity hang-out in the West End of London.
It was really hot and steamy in the club and one of my friends decided to tell the DJ that it was my birthday and that I wanted a certain song to be played. My birthday is not for a couple of weeks yet. There is one song that always gets me going all the time and is entitled Maria Maria and has a wicked guitar instrumental by Carlos Santana. Once I hear that song I just go into my own little world.
I started doing some of my sexy salsa moves on the dance floor and before I knew it I was joined by an English man who must have been in his forties with slightly greying hair but extremely fit and sexy. He started gyrating against me and that was when the devilish Veronica appeared. I could feel his huge cock as he kept rubbing it against my pussy and by that time my skirt had ridden up until my ass cheeks were showing. I made no attempt to pull my skirt down and was thoroughly enjoying myself it was as if the two of us were one, both of us were so damn horny. Then out of the blue the DJ changed the song and the lights dimmed even further. I left my dance partner with his cock bulging and scanned the dance floor for my friends but could not see them, so decided to sit down. Just my luck there were no spare seats and I was just about to walk away from the last set of seats where i hoped I would find one, when out of nowhere someone grabbed my hand and I realised it was my dance partner. He explained that he had not danced like that for ages and really needed the seat but I could sit on his lap. I thought there was no harm in that so I sat down and was not surprised to feel that he was rock hard. He was massaging my back making me even more horny so without saying a word, I stood up adjusted my skirt and then sat back down, right on his huge cock. His thick huge cock filled my tight pussy and he was ramming himself into me. It felt so fucking good. There were so many people around us, but it was so dark that no one noticed. His hands were around my slim waist slowly lifting me up and down his cock until he shuddered and I could feel his hot cum shooting up inside my pussy.
That was just one of my tales, you should hear what happened when I went into the ladies.. Call me and I will tell you about me being fondled and sucked by a lady in the ladies and how I eventually came.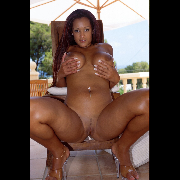 There is no recording for this blog entry