NurseVicki's phone sex blog - Your Naughty Nurse Vicki - 2008-04-14 17:31:23
More blog entries
|
Speak to NurseVicki
Hello Guys and Gals,
I new here so I thought I 'd let you know a bit about Me!
I am as i said in my profile medically retired Yes I am handicapped meaning I cant do the heavy work of a RN bless them ladies its a very hard job ! So I started doing naughty phone, a few years back Very early, before you could find ladies on the computer! I used to run an ad in the local city paper and do the credit card processing my self ! I very happy to let some one else handle that for me! I just want to pleasure the Men and occassional Lady that call me
! Something I can do even when my back knees etc hurt and keep me from doing other things! I am still able to enjoy my self a lot sexually and that's another reason I am on here this is also a pleasure for me smile! Yes mostly I do this from my king sized bed! in the nude!
I am a Nudist Hate putting clothing on Grin! I don't mind dressing sexy for you though if you enjoy me on cam and like garters and stockings do tell me. I will wear them because turning you on, turns me on!
Isn't that whats it all about?
What do i do when i not on the phone? well lets see i edit videos we have taken so i can sell clips on here or dvds! I design and make jewelry which i may add a few items to sell here but mostly sell on a website that only sells hand made items its called etsy funny name but a great place!
I write short stories, read , cook for my hubby,hes 77 and a dear thing ! I also go frequently to my Mom's to visit and help her out she is 73 and a wonderful Artist! She used to do Phone too but says she tired of it smile doesn't care to be woke up in the middle of the night any more!
Well just a bit about me so you know i am human lol kisses more soon
Nurse Vicki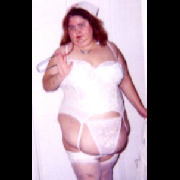 There is no recording for this blog entry