MZGDPZE's phone sex blog - Creampie Sugar Daddy Fingers & Eats Sweet Shaved Honey Pussy Creampie - 2007-12-27 08:37:11
More blog entries
|
Speak to MZGDPZE
My French businessmen Sugar Daddy lovers tend to get right to the point by juicing up my pretty hot box and making this little girl scream out with delight.
When I gather these guys in a room, I usually strap them down before they get golden wet piss sprayed and pussy squirt juiced.
They all beg me to call them Daddy, vying for my femdom attention, bringing me silks and lingeries from their journeys!
These are mostly businessmen with uptight wife partners who come in groups to eat me out and clean me thoroughly on scheduled meetings. And I could not be more happy.
They yearn to eat good pussy - like a fat ass - to get back to the motherland.
I'm the one to help them since their ladies do not know how good these Daddies can do it! And they need me....
My #1 Sugar quickly makes his way down to my perfectly and completely shaved pussy and ass with his tongue and fingers.
He always says I taste like the sweetest honey from the wildest bees.
His partner, Marcus (my standby) quietly & anxiously awaits as I eagerly return the honor by working my man's cock with my hand while his partner lets me slob on his big johnson knob.
He forces his cock in my mouth and stretches is down my throat. My man loves to watch his friend fuck me in the face....
Before I know it, they are both riding me and pumping me one after another.... filling me up and cumming inside - leaving their hot semen to drip down my lips, thighs and into my torn clothes.
Guess who cream pies the semen from my pussy first?
Call me, shy guy, and do tell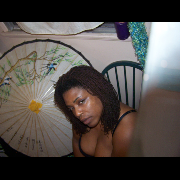 There is no recording for this blog entry