MZGDPZE's phone sex blog - Let Me Drink & Suck Down Your Creamy Cum !! - 2007-12-23 06:56:19
More blog entries
|
Speak to MZGDPZE
Occasionally when I go out, I'm turned on by groups of guys at the hookah lounge, looking at me on the sly...
I fantasize that I could suck out the cum from their tiny pricks like a variety of cigars ...
Once, I invited myself to a table of top shelf foreign businessmen ballers. They all needed to see how nasty the girl from the next table could be.
I wanted to make them all CUM HARD!
When getting fucked in the mouth, twat & ass, you'd think the gagging, slapping, choking & slobbering would hurt.... At least the back of my throat???
But no....
Not so much, really. I love it!!
I think of it like a HUGE blunt... like Puff Puff ... Suck Suck ... Gag Gag ... Gulp Gulp... Pump Pump... Then Pass OUT!
OH & PLEASE ~ Cum on my face Boo... It's all fun.... It's all good!!
Cause in the end.... you'll all be back for me... over & over.
I'm hot & you KNOW you wanna cum get sucked too... Or is it a little something else you want this time???
FIRST: I'd like to deep throat smoke your cock in my steamy hot mouth while you tell me about your needs....
Tell you what: Let Me Drink & Suck Down Your Creamy Cum - Then WE CAN DO WHATEVER ELSE YOU WANT !!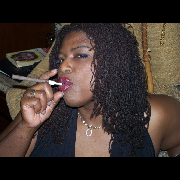 There is no recording for this blog entry