SexyNurseAdvice's phone sex blog - Fuck Me After Work In My Funky Nylons On My Feet - 2007-12-23 06:12:31
More blog entries
|
Speak to SexyNurseAdvice
Hey Pussy Breath -
I'm ready for your rock hard cock so take it out of your pants & get ready to put it up my ass.... Let's do it standing in the bathroom of my office.
While I get out of my piss scented fishnet stockings I wore while I gave exams today.... thinking of what was to cum...
The prostate I felt made me think of you. Especially when he came softly when I probed his bum ...
The breasts I savagely sucked during the yearly exams I did made me think of your twin daughters.... So much pussy - so little time...
All I can say is: I'm so glad you trust me to be your Naughty Nurse.
As soon as I wrap your SILLY face in my web of hosiery, you can get ON YOUR KNEES & prepare TO LICK me before you STICK me!
This time STANDING... on my FEET!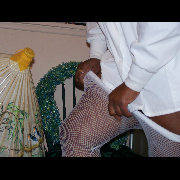 There is no recording for this blog entry