Mistress Eva's phone sex blog - Daisy's Assignment - 2007-12-17 08:00:56
More blog entries
|
Speak to Mistress Eva
Hello Mistress, big titted sissy bimbo daisy obeyed and first went to the store to get a sexy slip and a thong at victoria's secret. Sissy got a pink silk cam and matching silk thong. These huge gg tits are so embarrassing the way they swing and force me to move my ass and I feel everyone watching and all the sales girls able to see them.
But for some reason it just makes sissy want to rip off this chastity in which the key won't turn for some reason and cum. It is so frustrating. Sissy wore the outfit under its clothes to go see a late showing of i am legend later that night. Luckily it was the latest showing so there weren't very many people who went. Once inside sissy sat in the back and started taking off its disgusting male clothing. Sissy sat there for a while before the movie started, it was so embarrassing and humiliating, and my heart was pounding the whole time but I couldn't help myself. I really didn't want to do it but it seemed like i was watching myself from outside my body and I couldn't help myself. For some reason, thinking about it right now makes it difficult with this chastity device on and I wish I could take it off, and probably would if I could figure out how to use the key. Anyways, there were several men who came in, one couple came in, saw me and left, i felt so humiliated sitting there with my huge tits i wanted to leave so bad. Finally one man came to sit next to me and started to laugh, i was shaking, but i got on my knees and told him my Mistress told me i needed to pleasure a man here and I obey. I couldn't believe the words coming out of my mouth. When the movie started he unzipped his pants while sitting with me kneeling between his legs and had me suck his cock for a long time. I think the movie was about half over before he was finished. i swallowed as much cum as i could to please you but a lot got all over my face and outfit. i was so humiliated i ran out right afterwards.
i'm sorry i wasn't able to call you Mistress, i'm out of money right now and don't want to get kicked out of my appartment, please forgive me. Do you have any other rules or orders that would please or amuse you? i obey and worship you.
big titted sissy bimbo daisy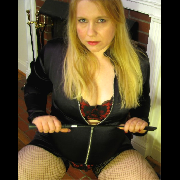 There is no recording for this blog entry