SexyNurseAdvice's phone sex blog - My Lace Panty Hose After Work - 2007-11-10 11:12:22
More blog entries
|
Speak to SexyNurseAdvice
After Ihave worked a longer 10 or 12 hour shift, the first thing I do is come home and take my hose off at the front door. I walk through the house with the pantyhose in my hand and I head for the toilet to pee. Let me tell the who story....
Edited on 2007-12-11 06:47:12
I come home & I do sniff my hose as I take them off. I wanna see if they are funky, pissy or fishy ... I take them drop them by the toilet & squat to dribble my golden pee into my ceramic toilet bowl & leave it there for my boyfriend to find when he comes home....
He loves to jack his cock while I piss on him. He\'s a weird Fuck Cuckhold. Since I\'m often away cheating on his ass, he likes to reminisce with my golden toilet water....Anyway,... lets talk one on one so I can tell you the real 411 on him ....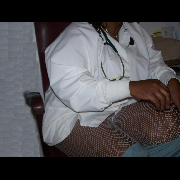 There is no recording for this blog entry