MZGDPZE's phone sex blog - Gotta Give - 2007-11-10 10:23:51
More blog entries
|
Speak to MZGDPZE
Somethings gotta give and the way I see it... It may as well be you!
Ok...before I piss you off, let me explain
I am a demanding Empress of a girl who loves to have her way. I love to tease you, ALLOW you to fawn and desire me, and go shopping - in that order.
Spending your money on my sex toys, shoes and lingerie makes me more happy than anything.
And taking pics for you to see but never really have me for your own, turns me on too.
Just the fact of knowing that you want to lick my pussy, makes me delight!
Stay tuned... I'm posting pics of the next coochie licker I meet for you to see how I teach my servants to bow down and be my boy toys. LOL Shhhhhhhh I have a few young girl toys too.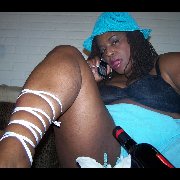 There is no recording for this blog entry