Horny Holly's phone sex blog - Getting taught a lesson! - 2007-07-20 14:39:58
More blog entries
|
Speak to Horny Holly
Hi Guys,
As you all know I love playing dress up - particularly as a very naughty school girl and I can think of nothing better than having a sexy strong man put me over his knee and give me a really good hard spanking!
Yesterday I was feeling extra turned on after I finished my evening bar shift and so the only way I could truly relax and enjoy my horny feelings was to come home and get dressed in my tiniest checked school skirt (the one where you can see my white panties as I sit down) a fresh white shirt, my school tie and stockings. I then lay down on my bed, spread my legs apart as wide as they would go and started to gently rub at my tight, wet pussy... slowly at first, enjoying every ripple of pleasure as it coursed through me and then faster, dipping 2 fingers in and out my dripping wet cunt, whilst rubbing my clit with my thumb....
If you'd like to find out what happened next then call me boys - I can't wait to hear from you!
Holly xxxxxxxxx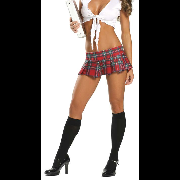 There is no recording for this blog entry