Madame Spanky's phone sex blog - My little slut... - 2007-06-20 23:09:22
More blog entries
|
Speak to Madame Spanky
So you want to be my little slut? Want to please me? Well its time you dressed the part. I have here a red leather basque, red silky panties, red suspenders and stockings and a gorgeous pair of high heels. I want you to slip into them now, want to see you encase your cock and balls in those panties and tell me how it feels. Go on, stroke yourself through them, see how good the material feels over your manhood. Pull on the stockings, smooth them over your skin, run your fingers around the top of them, see how different your legs feel. Now lets get that basque on and lace it up nice and tight, pull your waist right in, give you that sexy girly figure youve always dreamed of. Now put on those heels and let me see you walk in them. Come on, youre meant to be a sexy girl, wiggle your arse for me&yes, thats good. Now a wig and make-up and you do look a sexy little slut. Now let me give you this red leather mini-skirt to complete your look. After all, only you and I need to know what those panties are hiding.
You look so sexy to me I want to touch myself. I want you to take one of your shoes off and get on your knees. Now put the heel of that shoe in your mouth, close your lips around it and hold it there. Now put your hands behind your back and lean forward. Im sitting in a chair right in front of you, opening my legs and exposing my pussy. Im taking my vibrator and sliding it into my wet pussy and fucking myself. While Im doing this Im rubbing my foot all over your face and telling you what a worthless piece of shit you are. Dont you drop that shoe or you will have to get up and leave and I will not play with you again!
I fuck my self until I come and pull out my vibrator. Its soaked in my pussy juice. I lean forward and pull the shoe out of your mouth and replace it with my vibrator. I push it in and out of your mouth making you suck it hard. It amuses me and I laugh at how pathetic you look. I take it from your mouth and set it on the fastest vibrating speed, stuff it down your panties onto your cock&and walk away saying dont move until the batteries have worn down&.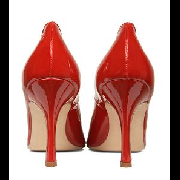 There is no recording for this blog entry