Shaven Haven's phone sex blog - Thinking of you. - 2007-06-12 21:32:53
More blog entries
|
Speak to Shaven Haven
It's been so hot these last few days I've just had to wander around the house naked. I was lay on my bed with the fan on next to me. It was rotating but every time it swept over my body my nipples stood on end. It made me want to touch and squeeze them. I love to roll my nipple between my thumb and forefinger, it makes my pussy throb in no time. Pretty soon i was getting into some hot finger action in my shaven haven but it made me so hot. I decided to take a shower to cool me down.
I was under the lovely cool shower, getting my tits nicely soaped up, when I started thinking about you. I imagined you with your head between my legs, licking my smooth pussy lips and my hard little clit, before opening my pussy lips and pushing your tongue right inside me. I could see your hard cock quivering and desperate for attention.
I imagined you got under the shower with me and I dropped to my knees and took your hard cock in my mouth, running my tongue around your thick helmet, licking down the shaft and over your balls. I imagined you pulling me to my knees, turning me to face the wall and bending me forward. You slid your cock right into my gaping wet hole until it was deep inside me. Then you started to fuck me, slowly at first but then quicker and harder. I was trying to steady myself on the slippery tiles and I was moaning and calling out your name. You pulled your cock out of me and pushed it into my tight little arse. I rubbed my clit with my fingers while you pounded your cock in and out of me and soon I was cumming really hard and screaming in ecstasy.
You turned me back to face you, pushed me onto my knees and rubbed your cock hard until your lovely hot, sticky cum splashed all over my face...
When I eventually stopped thinking about you, I found myself trying to shove the bar of soap into my pussy and realised you weren't there after all.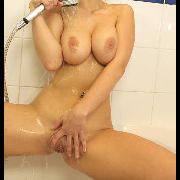 There is no recording for this blog entry