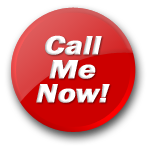 Sexy Sabrina
Hear My Voice
Let me bewitch you with my sexy voice!
Hi guys! I'm Sabrina and I'd love to put you under my spell and take you to a world of naughty, filthy fantasy heaven!!I love roleplay and I can't wait to hear you talk dirty to me while I wank my soaking wet pussy! School teacher, naughty schoolgirl, secretary or nurse......I love to be your fantasy girl! I will even put my phone down there so you can hear me fucking my pussy with my vibrator!

If you would like me to exchange sexy, dirty emails with you then please don't forget to sign up as a member (it's free) Also please remember to send me a tip first so as to make it fair to my callers. Once you are signed up you get a better rate when you call and us girls also get a far better rate from credit card callers!Don't worry, you are billed very discretely. It just appears on your bill as 'Phone Advice'. Come and give me a call guys........... you WON'T regret it!!!!!!!!
Sexy Sabrina's Blog
Click here
to see all of Sexy Sabrina's blog entries
Ha brilliant sex in my boyfriend's car!!! - 2011-08-08 13:42:03
God, I had such good sex last night in my bf's car! I love to be filthy when there is a chance someone may be watching! I sucked him off before he fucked me up the arse...........Mmmmmmmmmmmm!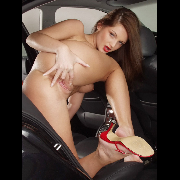 Hear me fucking my wet pussy with my vibrator and cumming hard!! - 2011-07-12 13:16:39
I am so horny at the moment and want to cum so bad! I am looking at naughty pics of an orgy and I want you all to hear me fuck my pussy hard with my vibrator and then listen to me cum!!!!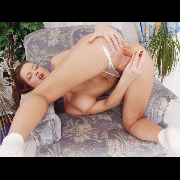 Want to listen to the whole blog entry?
Click here
Fun dressing up Ron at my lingerie party! - 2011-07-02 10:50:13
I have a really good friend called Ron and he loves me to dress him up as a sexy girl. A few weeks ago I was having one of those lingerie and sex toys partys and had invited many of my girlfriends along. I decided to surprise my friend Ron and invite him over as well, but didn't tell him about the 'party'! I phoned Ron to see if he'd like to come over for a drink on the night in question and he said that he'd love to. Well, at 7.30pm on the dot the doorbell rang and it was Ron. I took his jacket and offered him a glass of wine. We chatted for a few minutes and then the doorbell rang again. It was Melanie who was organising the party. I introduced her to Ron and explained to him why she was here. Ron beamed when he realised what the evening was really about and began to watch Melanie unpack some of her holdalls with all the sexy lingerie and outfits. His cock began to twitch as he imagined himself wearing some of the sexy lingerie and short dresses on display. My girlfriends began to arrive and soon everyone was ready for melanie to begin. Melanie stood up and introduced herself. One or two of the girls said that they didn't think it was right that Ron was wearing trousers and a shirt and suggested that if he wanted to attend a 'girls only' party he should dress as a girl as well! Ron looked a little embarrassed but soon everyone insisted that he try on one of the outfits in Melanie's holdall. My friend Suzy picked out a gorgeous floaty pink babydoll nightie which came with a matching pair of sheer nylon crotchless pink panties. She pulled it out of the bag and told Ron to get undressed and try it on........in the room.....in front of everyone!!.........................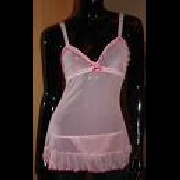 Want to listen to the whole blog entry?
Click here
Talk to "Sexy Sabrina" for only $1.23 per minute using your credit card