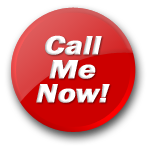 Sexy Monique
Hear My Voice
Lonely housewife who adores being REALLY naughty
Hi, My name is Monique. I'm a slim, sexy, curvaceous long haired brunette. I'm always horny, and really easy to chat to. I'm educated and well spoken, but don't be fooled.....I can be downright dirty when i want to!!! I'm a good listener and get extremely wet talking on the phone to sexy guys like you! I don't mind what you want to chat about and I enjoy chatting to both men and women. If you like my pics then feel free to click on the 'buy me' buttons below to see lots more of me!!!

I love to wear sexy clothes and lingerie, and especially love wearing my vintage 100% nylon hosiery. They feel and look so sexy thet I can't resist stroking my feet and legs, and then my pussy when I put them on! I enjoy sexy chat, and roleplay. I have loads of different fantasies, but my favourites involve at least one other woman, feet/legs/nylons, orgies and watching guys cumming. Maybe you would like to tell me all about your kinky fetishes and fantasies as well?

I adore sexy chat with both men and women and I love variety, so whatever you want to talk about is fine with me. I can be gentle and sweet, innocent, or extremely naughty!! If you register (which is free) you can use your credit card to call me (billing is discreet), which will work out even cheaper and gives us girls a better rate too! If it's not convenient to call, then if you tip me, we can exchange some naughty emails instead. So come on, why not call me right now!??
Sexy Monique's Blog
Click here
to see all of Sexy Monique's blog entries
I'm back and feeling HORNY!!!!!!! - 2011-08-08 13:35:28
I've been away from the site for a few weeks but I am back and feeling hornier than ever!!!!!!!!! Come and help me rub my aching cunt guys!!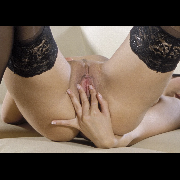 A special dirty message for a very special older guy!! - 2011-07-12 13:56:17
I want you to fuck my wet cunt hard and then I'll suck your hard cock till you spill your hot wet spunk all over my hard, aching nipples. Listen to me do just that!!!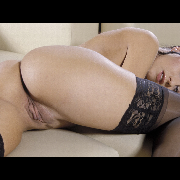 Want to listen to the whole blog entry?
Click here
Fun with Roger the plumber! - 2011-04-09 16:45:16
I want to tell you about my very horny experience with a much older guy. His name is Roger and he is a plumber I use from time to time. I knew he fancied me big time so I went upstairs and put on my lacy push-up bra and matching thong. Then I slipped on a tight short charcoal grey short skirt and a flimsy low cut white silk top. Roger loves looking at my legs so I put on my sheerest seamed stockings and killer heels. When he arrived I noticed that he couldn't stop staring at my body and he seemed a little flustered! I smiled to myself, knowing I had produced the right effect and walked ahead of him into the kitchen. He had come to look at my dishwasher which wasn't working properly. I bent down to take out the lower basket but i was having a lot of trouble removing it. I knew Roger was staring at my shapely legs and that he could almost certainly see the tops of my stockings while i was bending over. After a minute or so of trying to get the basket off he asked me if I needed any help. I asked him to give me a hand, and he did............LITERALLY!!!!!
Want to listen to the whole blog entry?
Click here
Talk to "Sexy Monique" for only $1.24 per minute using your credit card
Click here
here
to see all of this babes ratings