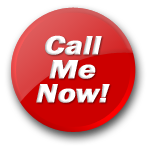 Madame Spanky
Hear My Voice
All things fetish...
Hi, I'm Madame Spanky and I like all things fetish....UniformsRole playFoot WorshipWatersportsSub/domSpankingIn fact, whatever your 'thing' is, I'd love to join you in that fantasy!

Come and join me and escape from reality into that world where all your desires are fulfilled. Let me help you shed the pressures of life in today's harsh world. Cast off your workclothes and get into the role you think about constantly. Let me be your slave or mistress, worship my feet, spank or be spanked, come into my bathroom and leave your inhibitions at the door and we give each other a lovely golden shower...
Madame Spanky's Blog
Click here
to see all of Madame Spanky's blog entries
Panty man. - 2007-08-21 03:55:31
The other day I caught one of my subs wanking whilst sniffing a pair of my panties. He hadn't heard me enter the bathroom and I caught him in the act. And what do you think you are doing? I demanded. He muttered some reply, whilst trying to stuff the panties back in the washing basket. So, you little pervert, you like soiled panties do you? He went really red in the face. You're a pathetic little panty sniffer arent you? I asked him. Yes Madame, he mumbled. I slapped his face. Yes, a pathetic little slut who likes to smell Madames panties. Well you're going to have to be punished! I hitched up my skirt to reveal my stocking tops, suspenders and black panties. I buried his face into the gusset and made him lick and suck it. I'll teach you to masturbate over my panties you little bitch, I said. I took my panties off and stuffed them into his mouth. You want them so much, you can eat them, I told him. Perhaps you wouldd like a little something to help them go down as well! I pushed him to the floor and knelt over his face and squirted a stream of pee right into his pathetic mouth. When he was soaked I allowed him to spit the panties out. Now lick me clean!, I ordered him. When he had done I told him to sit on the toilet. I took the soaking panties and placed them over his face. I called in a few of the other Mistresses and made him wank again while we all stood and laughed at him, telling him how pathetic he was at wanking and what a tiny cock he had. Despite this he eventually managed to make a thin trickle of cum ooze out of his cock, whereupon one of the Mistresses scooped it up and made him suck every drop off her finger. If I ever catch you NEAR my panties again I will flog you mercilessly, I told him.
The pathetic worm - 2007-07-26 16:47:14
As you may know if you've ever spoken to Madame, I like sex and PLENTY of it! Imagine my disgust at having a man round to get down and dirty with, only to find he had the tiniest cock I had ever seen! And what do you expect me to do with THAT little maggot? I asked him. He went very red in the face and said sorry madame. It wouldn't even touch the sides, I told him, it's no use to ME. He looked down at the floor and started mumbling. I slapped his face and told him what a pathetic little bitch he was. There was only one thing for it. I got out my strap-on and made him measure his cock against it. This is the size of cock I'm used to, not THAT little chipolata I laughed. Now, get on your knees and suck it, I ordered him. I pushed my dildo into his mouth and made him suck it hard, made him gag on it, made his mouth water on it. When it was nice and wet I got him on his hands and knees and slid my strap-on into his tight arse. His little cock got really hard and he started rubbing it between two fingers. I fucked him hard and fast and he was moaning loudly. When I thought he had had enough I took my strap-on off and let him push his little cock into my wet pussy. Is that the best you can do, I said, laughing at him. I was laughing so hard I didn't realise he had cum. I'm done Madame, he said. Too right you no-hoper, I told him, now get out before my friends turn up, or you'll be in for some REAL humiliation...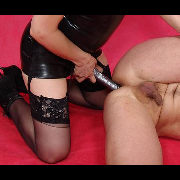 My little slut... - 2007-06-20 23:09:22
So you want to be my little slut? Want to please me? Well itchr("$m[1]")s time you dressed the part. I have here a red leather basque, red silky panties, red suspenders and stockings and a gorgeous pair of high heels. I want you to slip into them now, want to see you encase your cock and balls in those panties and tell me how it feels. Go on, stroke yourself through them, see how good the material feels over your manhood. Pull on the stockings, smooth them over your skin, run your fingers around the top of them, see how different your legs feel. Now letchr("$m[1]")s get that basque on and lace it up nice and tight, pull your waist right in, give you that sexy girly figure youchr("$m[1]")ve always dreamed of. Now put on those heels and let me see you walk in them. Come on, youchr("$m[1]")re meant to be a sexy girl, wiggle your arse for mechr("$m[1]")yes, thatchr("$m[1]")s good. Now a wig and make-up and you do look a sexy little slut. Now let me give you this red leather mini-skirt to complete your look. After all, only you and I need to know what those panties are hiding. You look so sexy to me I want to touch myself. I want you to take one of your shoes off and get on your knees. Now put the heel of that shoe in your mouth, close your lips around it and hold it there. Now put your hands behind your back and lean forward. Ichr("$m[1]")m sitting in a chair right in front of you, opening my legs and exposing my pussy. Ichr("$m[1]")m taking my vibrator and sliding it into my wet pussy and fucking myself. While Ichr("$m[1]")m doing this Ichr("$m[1]")m rubbing my foot all over your face and telling you what a worthless piece of shit you are. Donchr("$m[1]")t you drop that shoe or you will have to get up and leave and I will not play with you again! I fuck my self until I come and pull out my vibrator. Itchr("$m[1]")s soaked in my pussy juice. I lean forward and pull the shoe out of your mouth and replace it with my vibrator. I push it in and out of your mouth making you suck it hard. It amuses me and I laugh at how pathetic you look. I take it from your mouth and set it on the fastest vibrating speed, stuff it down your panties onto your cockchr("$m[1]")and walk away saying chr("$m[1]")donchr("$m[1]")t move until the batteries have worn downchr("$m[1]")chr("$m[1]").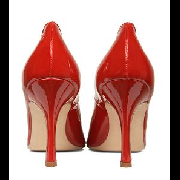 Talk to "Madame Spanky" for only $1.23 per minute using your credit card
Click here
here
to see all of this babes ratings