Serena's phone sex blog - Tasty - 2016-04-01 18:55:18
More blog entries
|
Speak to Serena
Oh yes, my chat with Paul was very very tasty and perhaps I might just reflect briefly now upon the delightful time we had together - as indeed I do with so many of you :) - but back to Paul for now.
Going back down memory lane led me to suggest that I lie upon my bed, as indeed I did when on the tv (we always enjoyed that period of my career) but now in the privacy of my own bedroom I can be much naughtier than I was on the tv.....
Look how I lie back, spreading my legs and slipping my hand down between them ... brushing against my soft bush and slipping my fingers daintily and delightful into my warm wet pussy.
Is it wet Paul? I rather seem to recall you slipped between my legs to see. Your tongue tasting me and my pussy responding to your tease and taunts in a truly responsive and exciting way.
A tasty conversation? Oh yes Paul and the rest of the treats we gave each other we'll keep all to ourselves.....
Mmmmmmmmmm! x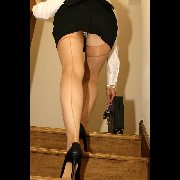 There is no recording for this blog entry